MME A–S DÅVIK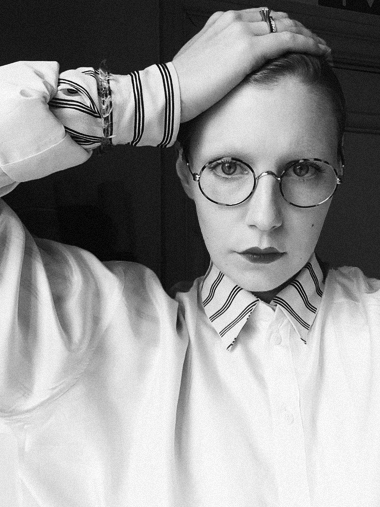 ORB AND ORIGIN
I GRADUATED 2006 AT CENTRAL SAINT MARTINS UNIVERSITY OF THE ARTS IN LONDON WITH AN MA IN FASHION – WOMENSWEAR UNDER THE SUPERVISION OF PROFESSOR LOUISE WILSON, OBE.
IN 2007, AFTER 7 YEARS OF STUDYING AND LEARNING THROUGH ASSISTANT WORK, BOTH THE INTEREST FOR THE ARTISANSHIP AND THE DESIGN PROCESS FELT EQUALLY IMPORTANT. LETTING GO OF ONE OF THEM FELT WRONG AND THE TWO SKILLS MADE A STRONG RESULT WHEN BUILDING UPON EACH OTHER. THESE TWO ELEMENTS FORM THE ORB AND THE ORIGIN OF MME A–S DÅVIK
PASSION AND INTUITION WITHOUT COMPROMISE.
THROUGH THE PAST YEARS I HAVE CHOSEN TO FOCUS ON GARMENT MAKING STRAIGHT TO THE COSTUMER, INTENSELY WORKING WITH THE CRAFT OF GARMENT MAKING, CONSTRUCTING AND CUTTING AS WELL AS MOVING FORWARD IN MY INSPIRATIONAL UNIVERSE, I HAVE DUG DEEPER INTO MY OWN VALUES TO DISTIL MY WORK FURTHER.
I COMBINE THE TWO ELEMENTS INTO WEARABLE, PERENNIAL CLOTHES THAT BEARS VALUE AND WITHHOLDS THE QUALIFICATIONS FOR A LONG LIFE. THE DESIGN, THE FIT, THE MAKING, THE MATERIAL AND THE PASSING OF INFORMATION ARE THEREFORE EQUALLY IMPORTANT PARTS OF THE COMPOSITION.
I WANT MY WORK TO CONTRIBUTE TO MAKING THIS WORLD A BETTER PLACE, IN VARIOUS DIMENSIONS.
I WANT TO ENCOURAGE AND URGE ON INDIVIDUAL CONSUMING PATTERNS.
I WANT TO OFFER A WAY OF TAKING RESPONSIBILITY AND AT THE SAME TIME OFFER THE VERY BEST OF CUT AND SHAPE. TO OFFER BEAUTY.
I CREATE GARMENTS THAT ARE VALUABLE BUILDING BLOCKS IN A LONG TERM CLOSET AND AT THE SAME TIME HOLDS A PIECE OF MAGIC.
MY APPROACH TO FASHION IS NAMELY ALSO IN A WAY MYSTICAL AND SPIRITUAL. TO ME IT IS NOT JUST A GARMENT, A PIECE OF CLOTHING. TO ME IT IS AT THE SAME TIME A REVELATION, AN OPENING TOWARDS ANOTHER LIFE AND A DIFFERENT DIMENSION.
THE PIECES I CREATE DO NOT COME FROM THE OUTSIDE WORLD BUT FROM THE INSIDE, FROM MY SPIRIT. EVERY GARMENT ENTERS THE WORLD WITH LOVE. IN MY WORK THERE IS NO LOGIC. REASON STAYS OUTSIDE THE ATELIER DOOR, LEAVING SPACE TO INTUITION, EMOTIONS, FEELINGS AND DREAMS.
THE FABRICS I WORK WITH ARE HIGH QUALITY CARRY-OVERS FROM ITALIAN MILLS. I MAINLY USE PURE WOOL, COTTONS OR SILKS. DRAPING, CUTTING AND SEWING MADE BY ME IN MY STOCKHOLM ATELIER. MY JEWELLERY ARE HANDMADE BY MY FATHER IN HIS GOTHENBURG STUDIO AND WE WORK WITH RECYCLED SILVER AND GOLD OF THE VERY BEST QUALITY.